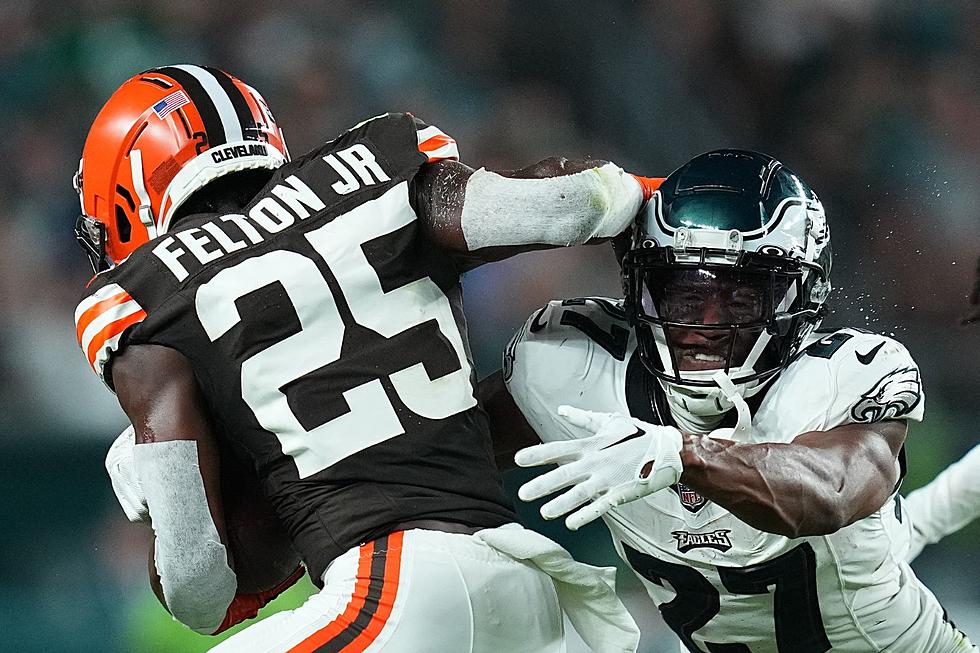 What do the latest Eagles Roster Moves mean for the 53-man Roster
(Photo by Mitchell Leff/Getty Images)
On Saturday Morning, the Philadelphia Eagles made a flurry of transactions that will have a major impact on the initial 53-man roster and the team's depth chart this season.
The Eagles' latest set of transactions shows they are making a course adjustment at two positions, as they Cut both Cornerback Greedy Williams and Punter Ty Zentner. The organization also Released with an Injury Settlement Wide Receiver Tyrie Cleveland and Cornerback Zech McPhearson.
This is significant news because with McPhearson suffering a Torn Achilles on Thursday Night, there are questions about the Eagles' depth at Cornerback. McPhearson had been cross-training at both Outside Corner and Nickel Corner positions, the team now loses that versatile depth player. Even though Zech McPhearson, a Fourth Round Pick in the 2021 NFL Draft, has not "Wowed" anyone during his time in an Eagles uniform, his value as a Special Teams contributor and now versatile depth player made him a favorite for the initial 53-man roster. But the release of Greedy Williams is a clear sign that the Eagles have their eyes set on some players to make the roster at the Cornerback Position. Williams has not impressed anyone at Training Camp or the preseason, so now the focus at Cornerback turns to other young players to fill the roster depth void.
Last year, Josiah Scott got playing time when Avonte Maddox went down with an injury, so he is a candidate to make the team again this season. Josh Jobe has reportedly been very impressive at Training Camp and Joint Practices, making it very likely he is on the initial 53-man roster this year. If we factor into the discussion that last year the Eagles kept Six Cornerbacks on the roster, we can assume that five players may be competing for two roster spots. Mario Goodrich and Tristin McCollum have both been practicing at multiple positions in the defensive secondary so their versatility may factor into the team's evaluation. Kelee Ringo was one of the Eagles' draft picks this year so unless he performs poorly the rest of the month, it is unlikely he is released. Mekhi Garner and Eli Hicks have performed well at moments this month but unless they can showcase their value on Special Teams, they are probably on the outside looking in. Also, the Eagles made try to make the gamble of letting some of these guys pass through waivers and land them on the Practice Squad with the plan to call them up for Game Days for select games this season.
The other position impacted by Saturday's Transaction is Punter, as the Eagles cut Ty Zentner and kept Arryn Siposs.  Zentner was mediocre at best in two preseason games and has done nothing this month to show he should take the job away from the incumbent Siposs.  The Punter job has been a sore spot for the Eagles with Siposs not finishing in the top ten of Punt Yards, Net Yards, or Punts inside the 20 last season.  To make Siposs look worse, there were 20 Punters who put up better numbers just last season than the Eagles' Punter.  Zentner had a stellar career at Kansas State and was brought in to create competition with Siposs but instead, he was a major disappointment.  Unless the Eagles sign another Punter, the organization is stuck with another season featuring an Average-at-Best player at this position.
Eagles Top-10 Sack Leaders
More From Cat Country 107.3