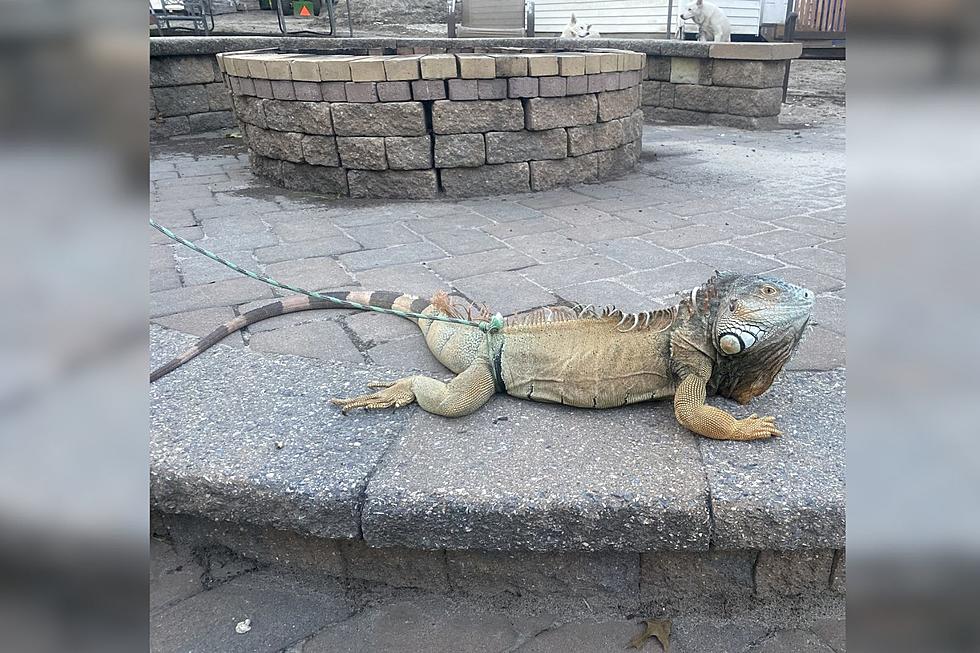 ANOTHER Iguana On The Loose In Absecon! Should We Name Him?
c/o Absecon Police Department/Canva
Here's a scenario you don't hear about every day. Well, maybe since we're talking about Absecon, it's one you're starting to hear about more frequently.
You've seen plenty of posts on social media about people finding a dog or a cat roaming around the streets, right? Well, what about an iguana? It sounds crazy, but that happens to be exactly what the people of Absecon, Atlantic County, have been hearing about more often. A post came up on social media regarding an iguana that was found by somebody who turned out to be a really decent human.
I say "decent human" because they could have left the iguana alone, but instead they made sure to turn it over to the proper people who can handle the situation the right way while giving the animal the best care.
If you're scratching your head because you're trying to figure out how the heck an iguana escaped from someone's home, well we're all right there with you. Here's what's funny. Apparently, this isn't the first time the people of Absecon have heard about an iguana that was found out and about just wandering the streets of town.
How does an iguana escape not one, but TWICE?!? Two times, this thing has gotten out? Is it the same one?
If you look at the comments underneath the Facebook post, you can see that people say the thing's gotten out so much, that maybe it's time for Absecon to declare the iguana the town's official mascot.
The iguana is pretty cute though, I'll give it that. It's got to be about 3 and a half to four feet long from tail to nose. This thing's not super tiny, by any means.
So, if you could name this little guy, what would it be? Let us know on the app!
If you think you might know who's missing this reptile, contact Absecon police at 609-641-0667.
Source: Facebook
12 Animals That Are Illegal to Own as Pets in New Jersey
15 Weapons & Devices it's Illegal to Own in New Jersey
These 14 Black Horse Pike Eyesores in South Jersey Need to Go Now
While many businesses have thrived on the Black Horse Pike between the 42 Freeway and Atlantic City, many have not. Let's take a look at some of the worst eyesores that need to be dealt with.
More From Cat Country 107.3