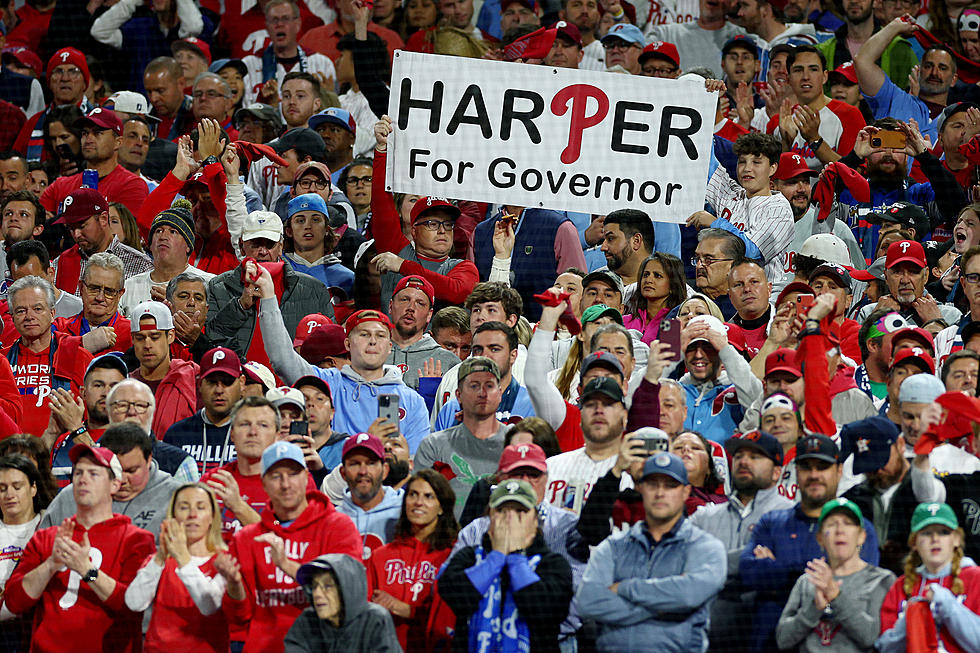 New Survey Says Phillies Fans Are Some Of The Worst Behaved In The MLB
Elsa/Getty Images
Now that football season is in our rearview mirror, it's time to look forward to everyone's favorite summer sport: baseball.
Isn't that one of the best summer activities? Heading to the ballpark to catch one of your favorite teams in action? There's something about summer nights at Citizens Bank Park. The lights, the smells, and obviously cheering on our beloved Philadelphia Phillies -- what could be better?
It's no secret that Philly sports fans are known for their unfailing loyalty. What they may be known for even more, however, is their wild antics. Contribute that to team loyalty, passion, or genuine love for the City of Brotherly Love if you want to, but apparently, the behavior is off-putting for a lot of fans looking to come enjoy a game in Philly only to have less than great of a time because of the taunting displayed by fans of the home team.
A new survey names Phillies fans as the 2nd worst fan base in the entire MLB. That's unfortunate news to hear as someone who calls themselves a Phillies fan, but the survey has pretty solid statistics to back up the claim.
The survey comes from the folks at Crestline who questioned 1,000 baseball fans about their opinions of various teams, players, and fans of the different clubs. As you can imagine, Philly didn't fair so well.
The survey determined that Phillies fans were ranked 2nd for worst behaved in the league, 5th for most annoying in the league, and 5th most likely to complain about the rules changes for the upcoming season. Not a good look.
To add insult to injury, Outfielder Bryce Harper was named everybody's 2nd most annoying player. The only player voted more annoying than him was Jose Altuve from the Houston Astros.
So, is there any possible way to turn this around? Maybe, this should be the year that we as Phillies fans decide to prove everybody wrong. Think we can do it? Probably not. Even I have to admit, we are a tad bit rowdy.
Source: Crestline.com
Best Spots to Check Out at Phillies Spring Training
Remembering Events at The Spectrum in Philadelphia
Most Accomplished South Jersey Male Athletes From Each High School
More From Cat Country 107.3