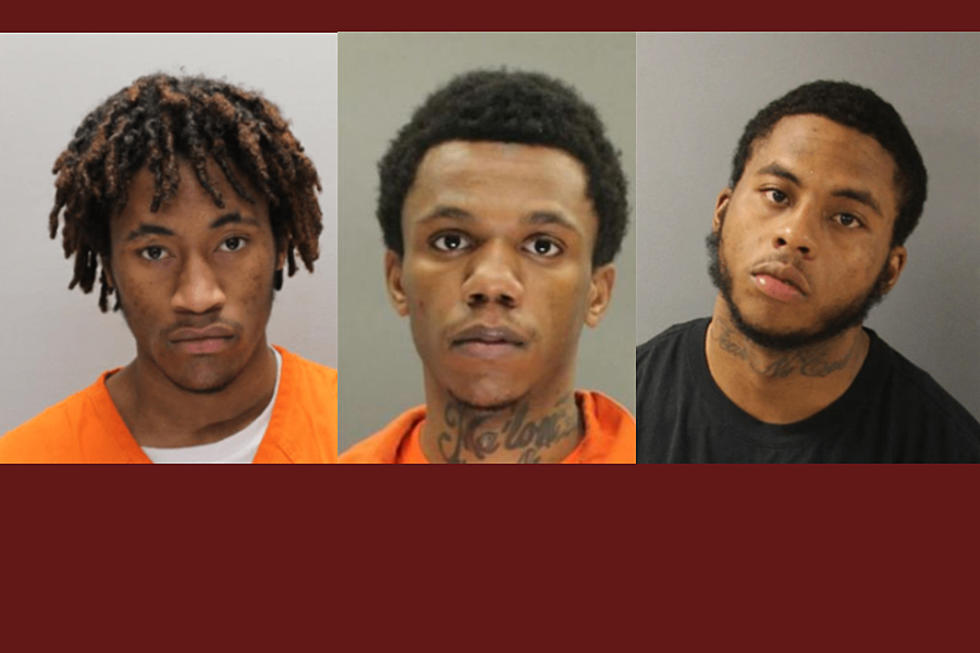 Three Men Charged in Pemberton Double Shooting
Todd McKinney, 19, of Trenton, Damier Smith, 20, of Pemberton Township and Marlon Sutton, 22, of Camden - Photos: Burlington County Prosecutor's Office
Burlington County Prosecutor Scott Coffina says three suspects have been charged in connection to a double shooting last month in Pemberton.
Coffina says 19-year-old Todd McKinney of Trenton, 20-year-old Damier Smith of Pemberton Township, and 22-year-old Marlon Sutton of Camden have each been charged with first-degree Attempted Murder, first-degree Conspiracy to Commit Attempted Murder, second-degree Aggravated Assault, second-degree Unlawful Possession of a Weapon, and second-degree Possession of a Weapon for an Unlawful Purpose.
Smith was taken into custody last week in North Carolina and is awaiting an extradition hearing. McKinney and Sutton were arrested last month, according to a press release.
Sutton is lodged in the Burlington County Jail in Mount Holly while McKinney is presently in the Camden County Correctional Facility on an unrelated charge.
Authorities say,
The investigation began after officers from the Pemberton Township Police Department were called to the 100 block of Kinsley Road for a reported shooting just after 10 p.m. on February 10, 2021.
Upon arrival, they discovered two adult males who had been struck by gunfire. One victim was struck in the head and leg while standing on the porch of this residence. He was transported in a police car to Capital Health at Deborah – Emergency Services. He remains hospitalized at a different facility.
The second victim, an unintended target, was in an adjacent residence when a bullet penetrated the home and struck him in the arm. He was taken to Cooper University Hospital in Camden, where he was treated and discharged.
The investigation revealed that McKinney, Smith and Sutton were all armed and fired toward the first victim from across the street where he was standing outside. They continued to run through adjacent properties as they fled the area.
Coffina says the investigation was conducted by the Burlington County Prosecutor's Office, the Pemberton Township Police Department, the Camden County Metropolitan Police Department, Chesterfield Township Police Department, Evesham Township Police Department, Mount Laurel Township Police Department, New Jersey State Police, the U.S. Marshals Service – New York/New Jersey Regional Fugitive Task Force, and the U.S. Marshals Service – Carolina Regional Fugitive Task Force.
$5.3M Sea Isle City Home is a Wine and Sunset Lover's Dream
LOOK: Stunning vintage photos capture the beauty of America's national parks
Today these parks are located throughout the country in 25 states and the U.S. Virgin Islands. The land encompassing them was either purchased or donated, though much of it had been inhabited by native people for thousands of years before the founding of the United States. These areas are protected and revered as educational resources about the natural world, and as spaces for exploration.
Keep scrolling for 50 vintage photos that show the beauty of America's national parks.
More From Cat Country 107.3