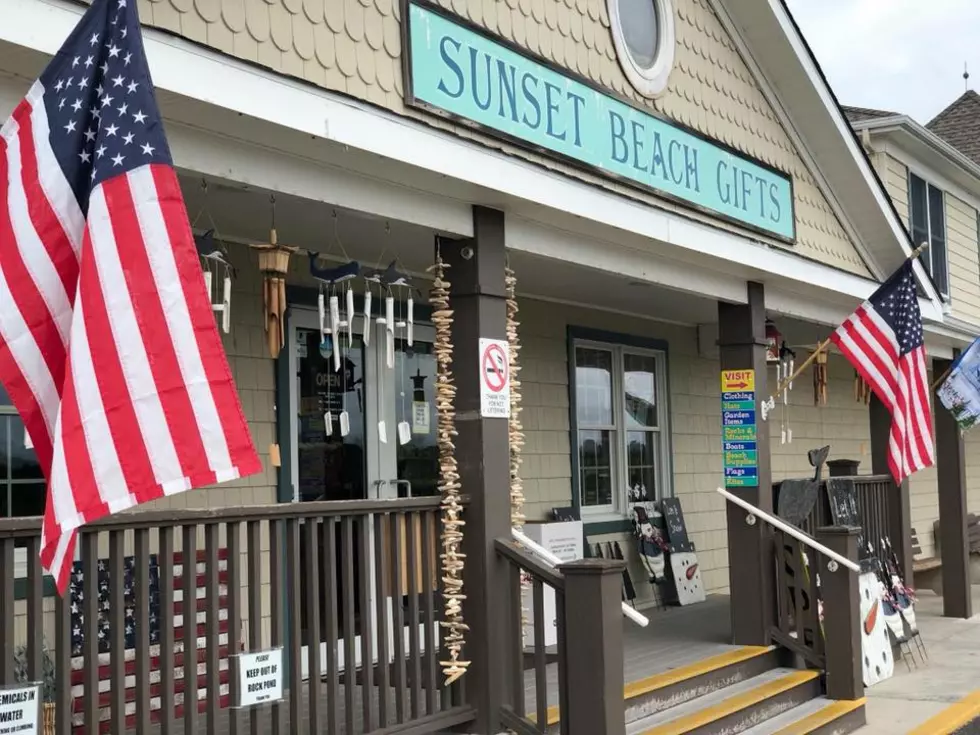 Sunset Beach Gift Shop Owner Threatened With Arrest
Sunset Beach Gifts - Photo: Larry Hume
Note: The following is a breaking news report along with editorial commentary by Harry Hurley as follows:
I can't believe that I'm even writing this story. You'll see as you continue to read.
I just had the first and only interview with Sunset Beach Gift Shop owner Larry Hume.
They had closed their store initially during the COVID-19 pandemic, however, under any fair examination, they met the state imposed qualifications to be open.
Full disclosure, my wife (Margie) and I have known Larry Hume for more than 50 years. We absolutely love Cape May, we visit often and we stop and shop at Larry's store every time we visit Cape May.
His store is a must see when you visit Cape May and Sunset Beach; along with the wreck of the Atlantus (The Concrete Ship). The World War II Lookout Tower and the beautiful ceremony lowering the United States Flag every every evening between Memorial Day and Labor Day at Sunset Beach at sunset. All of the flags flown are from veteran's caskets that families bring from their loved ones funeral for the ceremony. It's beyond profound.
The best way to communicate exactly what has happened is to let Hume tell his own story.
"My Main shop has sold about 20-25% food products, including: Pasta and pasta sauce from Italy, peanut butter, bread mix, waffle mix, pancake mix and many other types of food," said Hume.
"We also sell over $100,000 dollars at retail of soaps and bath products. We sell hand sanitizer," and they've now added face masks to help serve the current realities.
The Hume's have encountered threats of police arrest this weekend when they reopened for business. I have a video of such a pronouncement taking place between a police officer and Larry's son at near the steps of the store this morning.
I have been asked not to share the video at this time. But, I assure you of its existence and that I have viewed it.
Daniel Hume is a decorated United States Marine who served for 5 1/2 years and put his life on the line in service to country.
It is outrageous that he would receive a threat of arrest for operating a store which clearly provides many essentials.
Larry Hume offered "to provide invoices as well as letting the young Police Officer to look around shop."
"They only sent one young Officer, (who could have been my son); they never gave The Lower Township Business person of 2019 (Hume) the courtesy of even a visit from a Sergeant at the very least," said Larry Hume.
"So as we have finished all sanitary, I upgraded, installed plexiglass professionally throughout every area; even upgraded our restroom sanitation program to that of a school or hospital."
"We already have the cleanest public restrooms, serving hundreds of thousands of visitors to our area every year. People are now relieving theirselves all over our property out of human need and desperation and can't wait. We decided we MUST reopen, said Larry Hume.
Larry Hume conveyed that he trusted me to tell his story. And, that "in addition to me, he has full faith in Senator Michael Testa, Antwan McClellan, Tim Donahue, Zeth Mattalucci are such people that we trust and understand," said Hume.
Hume is presently looking at his next steps and I have confirmed that he will be speaking to a very high power attorney later today.
Hume is in disbelief that the local, "Police never gave me a courtesy visit from a superior Officer."
"The Officer walked to my store made every single person leave and said I had to shut down, but it did not matter that I sold those other food and essential items, essentially I was in Wawa Walmart, Acme, Home Depot, Dollar General, big lots, etc." said Larry Hume, alluding to the fact that these stores are allowed to be open.
"He threatened to charge my son Daniel, 31 years old with a disorderly persons offense. I don't know whether that's an actual arrest or whatever, and put him in his squad car for questioning him as to why they were shutting us down."
"My son has two college degrees. He decided to join the Marines and served 5 1/2 years until 2018.
"His job was as a top-secret counter intelligence working in Quantico his last two years, prior to that he was a field-up undercover in Iraq," said Larry Hume.
"His expertise was human intelligence, and counter intelligence. The Marines still want him back and he has gotten calls as recently as three weeks ago to please come back."
"And, this is how the Lower Township Police and the Cape May county prosecutors office treats us," said Hume.
"Finally, after much maneuvering, forcing my way to talk to somebody, I had a long conversation with our chief last night, basically I was told to just roll over in a nice way and go back to sleep and this will be over soon." said Hume.
"He told me he was instructed by the assistant prosecutor, that he would not call (Hume attorney) Tony Manzo late yesterday to discuss this, and if I were to open my business today, I was to be (in the Chief's words) arrested," said Hume.
"Of course the chief was sympathetic and cordial and said I don't want to arrest you Larry."
"He said that all of the Chiefs are very frustrated over this in Cape May County," said Larry Hume.
"It sounds reminiscent of Nazi Germany in the 1930s, all the henchmen, all the ones taking Jewish people away to camps for murder we're told by their leader, the way to respond to anyone is "we are just following orders," said Larry Hume.
"They just woke the sleeping giant. My son Daniel makes me look like a small man and he served this country more than a young officer from Lower Township," concluded Hume.
In my view, the hyper technicality that they initially closed during the pandemic shouldn't matter. No one could possibly know how long this was going to last.
The Hume's are selling essential products that people need to survive. They intend to remain open.
It's so surreal that this is what life in America, the freest nation on Planet Earth has come to. When law abiding, prominent citizens can suddenly find themselves to be threatened with police arrest.
This madness must end. I could actually feel feel my blood pressure rise during each keystroke while writing this article.
As free citizens, this is not how things should work in our country.
As he has throughout the COVID-19 pandemic, Senator Testa has consistently stepped-up in a big way. He's not afraid to take a stand when necessary. Tests does the right thing, and he doesn't worry about political correctness.
Senator Testa provided me with the following official statement from his office as follows:
"Governor Murphy continues to pick winners and losers placing many businesses at risk of never opening their doors again.
Prosecutor Sutherland is in a unique position to understand that Governor Murphy's Executive Orders are pure governmental overreach and trample upon the Constitution.
This proud veteran owned business should be able to safely open their doors and provide the same services which a Dollar General can do minutes away.
My team is actively working with the business to open up their doors," said Testa.
I have briefly interviewed United States Congressman Jeff Van Drew, who shared the following comments:
"There is just a better way to do this. We can be safe and careful and still allow business people to survive," said Van Drew.
Middle Township Mayor Tim Donohue made the following comment on my Facebook Page post regarding this disturbing matter:
"Home Depot, 8 am on Sunday morning (Donohue provided a photo of a jam packed parking lot). This is cool? (Donohue wrote). But, a decorated, Combat Veteran and the Hume family can't open a small convenience store at Sunset Beach???
"There is something terribly wrong going on here."
Our rights don't end where other peoples' fears begin," wrote Donohue.
Harry Hurley note: I am going to (again) ask Larry Hume for permission to post the Hume/Lower Township police video encounter.
Come back and look for this story to be updated as warranted. I will be seeking additional comments from other interested parties.
This is a Facebook Page Release from The PBA Local # 59. I disagree with the comment about this being a one-sided story. It is not.
Our article has always had references to the Cape May County Prosecutor's Office role in directing this matter, along with the compassionate and sympathetic comments from the Chief of Police to Larry Hume.
I recognize that the Lower Township Police Department, from the Chief on down were simply following orders.
The orders that they received were unjust orders and they know it and have said as much. They have been placed in a nearly impossible situation.
Here is the release in its entirety as follows:
We are aware of the story that was published by Cat Country pertaining to a local merchant being closed under the Governor's Executive Order. This is a stressful and unprecedented time and our officers support our local shop owners and their employees, as we know many of them stand behind our officers. We are saddened that a one sided article was written that blames an officer for the store being shut down. This was done through consultation with the Cape May County Prosecutor 's Office as directed by the New Jersey Attorney General's Office. Our officer's are simply doing their job.
Mike Szemcsak
President/State Delegate

Len Larkin
Vice President
SOURCES: Larry Hume, owner of The Sunset Gift Shop; Press Release from PBA Local #59; Harry Hurley interviews with Larry Hume, Senator Michael Testa and United States Congressman Jeff Van Drew.
Enter your number to get our free mobile app
South Jersey's Biggest Driving Pet Peeves
More From Cat Country 107.3