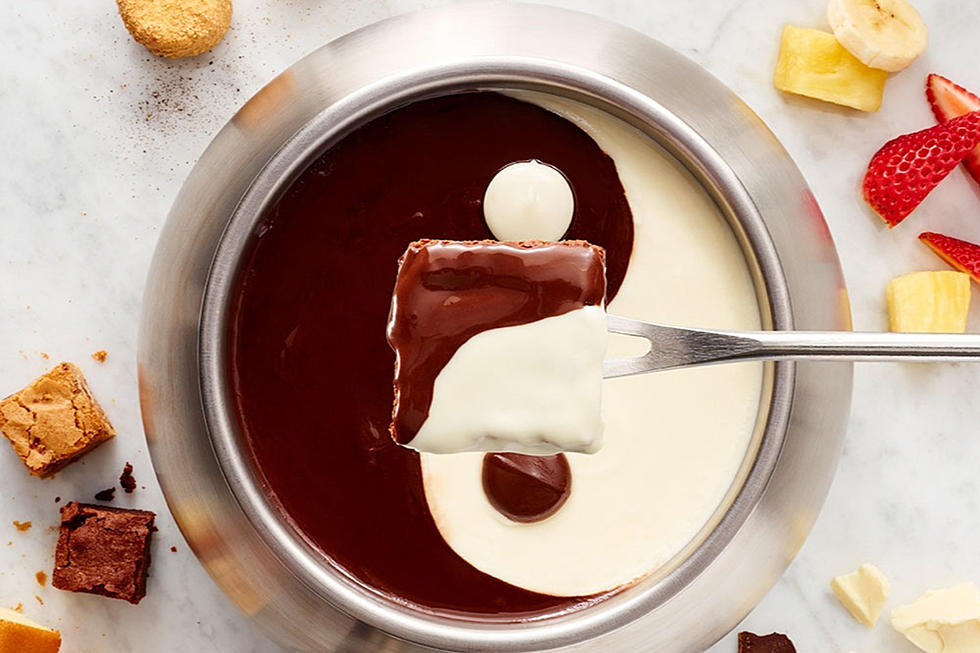 This NJ chain brings back a cool retro foodie experience
Via The Melting Pot on Facebook
When I was a little girl, my mom decided to be uber chic and host a fondue party for a few of the couples that my parents hung around with. I'll never forget how intrigued I was by those little chunks of bread and those little dipping pots.
Today I learned that fondue is alive and well and surviving in New Jersey.
And not only that, but there is a chain of fondue restaurants that I have never tried, but I can't wait to dip into. (See what I did there?)
The Melting Pot is a chain of fondue restaurants that has locations all over the country, but three in New Jersey. Locations in Redbank, Westwood and Maple Shade.
The Melting Pot is the NJ destination for gourmet fondue. It's a unique and interactive fine dining experience where you celebrate every day or something special at one of their tables.
From artisan cheeses and crisp salads to custom entrées and decadent chocolate fondues, there's something to satisfy every fondue dream at The Melting Pot.
You can have a romantic evening in one of their semi-private booths, enjoying craft beer, fine wine, or handcrafted cocktails while dining on custom fondues.
Romantic dining at its finest is just one reason to visit The Melting Pot the next time you need a night out.
The history of fondue can be traced back to the 18th century in Switzerland, where it was originally a peasant dish made by using up leftover cheese and bread.
The word "fondue" itself comes from the French word "fondre," which means "to melt." Over time, fondue became a popular dish among the upper classes, and it eventually spread to other countries in Europe and beyond.
In the 70s, its popularity exploded, and then it fizzled, being replaced by new and more health-conscious food fads.
But now it's back. So why do New Jerseyans love fondue so much? Well, it's hard to say for sure, but there are a few reasons that come to mind.
For one thing, fondue is a great party food that's perfect for sharing with friends and family. It's also a fun and interactive way to eat, which makes it a popular choice for special occasions and holidays.
And of course, the deliciousness of melted cheese (or chocolate, or oil) can't be denied!
If you haven't embraced fondue culture, yet, now is the time to enjoy its resurgence.
And you're looking for a fun and tasty way to entertain your guests, why not give fondue a try? You might just find that it's the perfect dish to bring people together and create lasting memories.
Opinions expressed in the post above are those of New Jersey 101.5 talk show host Judi Franco only.
You can now listen to Dennis & Judi — On Demand! Hear New Jersey's favorite best friends anytime, anywhere and any day of the week. Download the Dennis & Judi show wherever you get podcasts, on our free app, or listen right now.
Click here to contact an editor about feedback or a correction for this story.
NJ Diners that are open 24/7
The best cheeseburgers in New Jersey
Everybody has their own favorite burger place. Odds are, one of these places are right by you. In honor of National Cheeseburger day last Friday, September 17, here are some of the best cheeseburger joints in New Jersey according to Trev's social media following.
More From Cat Country 107.3