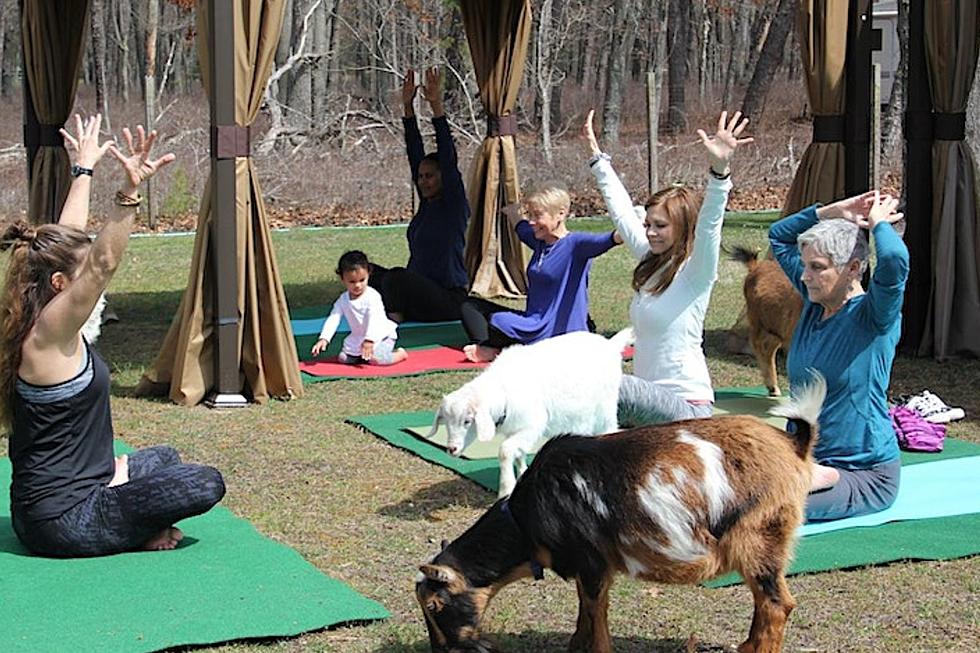 Yoga and… Goats? Try It This Weekend In Egg Harbor City, NJ
Eventbrite.com via Angels in the Pines Goat Farm LLC
You + yoga + baby goats.... the most ADORABLE goats, too, might I add. Yeah, it's pretty popular now here in South Jersey.
If you've never heard of it or have but haven't tried it out yet, it's brought to you by a place called Angels In The Pines. This place is a beautiful spot where people can meditate, get in a workout, and take in the cuteness of some really cute goats all at the same time. Puppy yoga is pretty popular on social media, but goat yoga sounds next-level, wouldn't you say?
The place is located in Galloway. Don't get it twisted; although the address is listed as Egg Harbor City, that's actually common for that specific region of the township.
Believe it or not, the folks over at Angels In The Pines has actually garnered quite a bit of popularity over the last few years. How could they not? This is one heck of an experience.
Here's the truth of the matter. If you're looking for a super hard work-out, then this event probably isn't for you. It's more about the experience than the work-out, itself. Your abs will hurt, though. That's a guarantee. How could they not when you'll be laughing so hard. The goats will be walking all around you, in and out of your poses, all while you're trying to keep a straight face. Yeah... good luck with that one.
It's not exactly uncommon for one of the little guys to hop onto your back while in certain positions, either. That's the best part! So, if you consider yourself a beginner, you have NOTHING to worry about. Nobody is going to be practicing their best poses if the goats have anything to say about it.
You can schedule your class at Angels In the Pines online HERE.
Source: Facebook
10 Annoying Things New Jersey Drivers Do
Sure, as residents of the Garden State, we certainly have privilege to criticize out-of-state drivers, but here are a bunch of reasons New Jersey drivers should be cranking up their radio volume when Taylor Swift sings, 'It's me. Hi. I'm the problem, it's me.'
These Are The 6 Scariest Roads In New Jersey
According to Only In Your State, these 6 New Jersey roads are the scariest to drive on in the entire state.
More From Cat Country 107.3