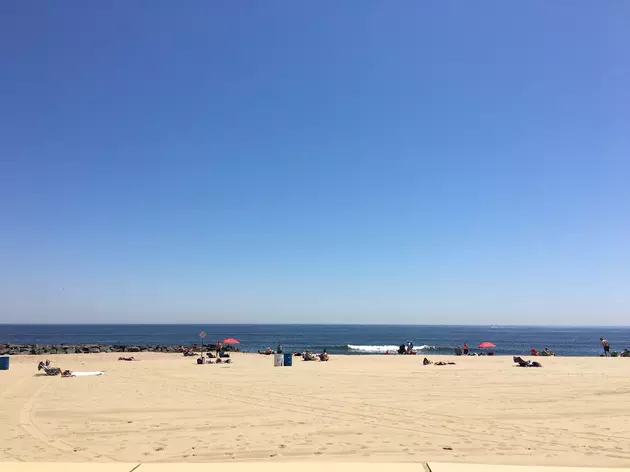 Heading to the Beach This Weekend? Check the Water Quality
Beach in Asbury Park (Dino Flammia, Townsquare Media NJ)
The water is safe for visitors of New Jersey's beaches this Memorial Day weekend.
Coastal surveillance flights started Monday, and water sampling started one week prior. And despite several days of rainfall, which is typically to blame for heightened bacteria levels in the water, there are no advisories or closures listed for New Jersey's beaches.
"Samplings show that New Jersey's ocean water quality continues to be outstanding," Department of Environmental Protection Acting Commissioner Catherine McCabe said Thursday at a "State of the Shore" event in Asbury Park, hosted by the New Jersey Sea Grant Consortium.
Advisories and closings are rare. Of the nearly 3,400 water samples collected during the 2017 season, bacteria levels met the state standard 97 percent of the time.
The DEP said advisories and closings generally occur after heavy rainstorms that can carry bacteria into shore waters from other sources.
"Fortunately in the ocean it quickly dissipates and we're only looking at brief issues," said Bruce Friedman, DEP's director of water monitoring and standards. "Usually the next day everything is fine."
Water quality is tested every Monday at nearly 190 ocean beaches and 31 bay and beaches across the state. If an initial sample exceeds the state standard, the local health agency issues a swimming advisory. If the affected beach exceeds the state standard on the next day, the beach is closed.
Coastal surveillance flights run six days per week through mid-September, weather permitting. Trained DEP staff look for excessive algae blooms or debris.
Daily beach report — 5/24/18:
Today's coastal surveillance flight was performed from Raritan Bay south around Cape May Point and up Delaware Bay. Beach and water conditions appear good. Dolphins were observed off Sandy Hook, Island Beach State Park and Wildwood.
More From Cat Country 107.3