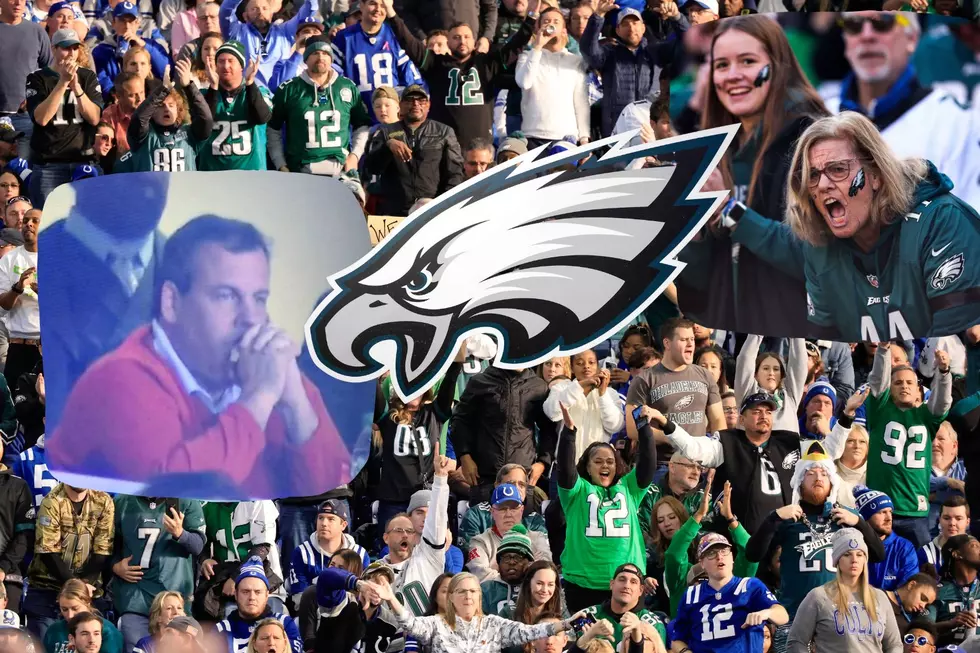 That time Eagles' fans spent an entire game booing Chris Christie
NBC/Getty Images/Townsquare Media Illustration
🔺Chris Christie is a die-hard Dallas Cowboys fan
🔺He was relentlessly booed when the Cowboys visited the Eagles
🔺Christie called Eagles' fans "Angry, awful people"
---
Philadelphia Eagles' fans take a lot of heat for their, shall we say, boisterous attitude.
The old Veterans Stadium in Philly even had holding cells for fans that took things a bit too far.
✔ Throwing snowballs at Santa Claus? Yep.
✔ Beat up a team's mascot? They put the Redskins Chief Zee in a wheelchair.
✔ Whipping batteries at their own players? It happened.
✔ Throwing beer on the opposing teams' fans? They did that to my then 8-year-old son at a preseason game.
Then there was the time they spent an entire game heckling former Gov. Chris Christie.
It may not go down in the annals of bad behavior, but the relentlessness and intensity of the booing was freaking amazing.
No matter what team you root for, many can find common ground with Eagles fans in pure hatred of the Dallas Cowboys.
Christie is a lifelong Cowboys fan, and he showed up at Lincoln Field in 2019 with owner Jerry Jones when Philly hosted Dallas.
Tensions were already high as the Eagles season was faltering after their Super Bowl LII win. Dallas could win the NFC East by beating the Eagles. The Cowboys were favored coming into the game.
Many of the fans in attendance were from New Jersey, and they let their displeasure be known that their governor would sit next to their mortal enemy and cheer against the Eagles.
As the Eagles dominated the Cowboys, the booing only got louder.
Christie recalled later on WIP-FM that fans "were yelling fairly unspeakable things at me."
It got so bad at one point, that Christie had one particularly intense fan removed by stadium security. That only made things worse.
The Eagles beat Dallas that Sunday, and went on to win the NFC East.
There was certainly no love lost between Christie and Eagles fans.
In 2015 when he went to Atlantic City to open the new Bass Pro Shop, Eagles fans followed him and booed his press conference.
In 2017, Christie went on WFAN's the Boomer and Carton show and didn't hold back.
"Eagles fans I can understand," Christie said. "Because the Eagles do suck and they've sucked for a long time. And their fans are generally angry, awful people."
Whoa. Them's fightin' words.
Christie left office in 2018. Has his opinion of Eagles' fans changed? He did not return a request for comment. Perhaps it's too painful a memory.
The one-time presidential hopeful has often had a hard go of it attending games to see his favorite teams, including the New York Mets.
He was booed by Mets fans after catching a foul ball during a game in 2017.
He also can give as good as he gets. Christie went nose-to-nose with a Cubs fan who was heckling him in 2017 during a game in Milwaukee against the Brewers.
Perhaps this is why current Gov. Phil Murphy is keeping his mouth shut when it comes to the Super Bowl. While saying he thinks the Eagles will win, he refused to say who he was rooting for.
Eric Scott is the senior political director and anchor for New Jersey 101.5. You can reach him at eric.scott@townsquaremedia.com
Click here to contact an editor about feedback or a correction for this story.
25 richest people in America and how they did it
[carbongallery id="6183d9a9a2ff9b4ff4987858"]
9 of the nation's most miserable cities are in New Jersey
More From Cat Country 107.3