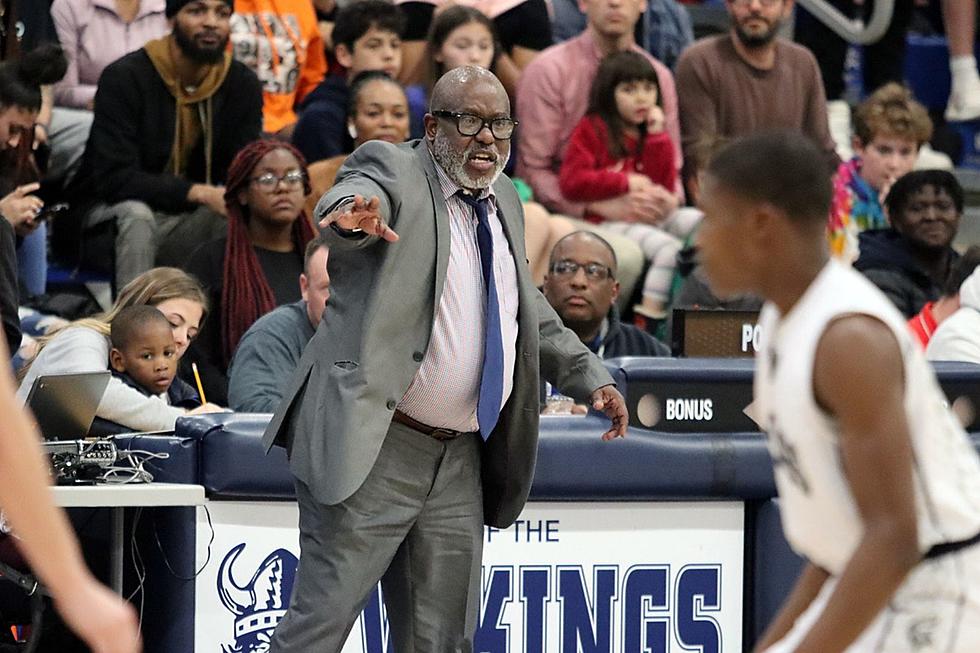 Atlantic City, NJ, Boys' Basketball Coach Gene Allen Stepping Down
Atlantic City HS Boy's Basketball Head Coach Gene Allen - Photo by Dave O'Sullivan/Glory Days Magazine
For the first time since 2003, the Atlantic City boys basketball program will have a new head coach.
Gene Allen is stepping down as head coach of the Vikings, telling his players in a meeting on Wednesday.
"I'm just ready to stop coaching," Allen told me.
Allen, 62, leaves as the Viking's all-time leader in victories and the only coach in the history of the storied program that has won a state Group IV title, accomplishing that feat on three separate occasions.
The Vikings won the 2005 Group 4 state crown and then added back-to-back championships in 2012 and 2013. They also won three additional South Jersey Group 4 titles in 2006, 2008, and 2016.
"Winning that first state championship," Allen told me is his greatest memory, "Then winning another one while being a road team."
The Vikings finished this season an uncharacteristic 4-13 and failed to make the NJSIAA Playoffs.
"All I know is we have had some success and I'm proud of the accomplishments that the players and coaches have had during my tenure," Allen told me back in December.
Allen was always proud of leading the Atlantic City program, which is treated as a professional sports team in the city. He always highlighted the storied history of the Atlantic City basketball program and cited former Vikings head coaches who paved the way before him.
"The coaches I learned from the most have been Bob Lester the old ACHS coach, Lloyd Barkesdale, Joe Fussner and Donnie Marsh, who is a current assistant at Detroit Mercy University, all ACHS greats," Allen said.
The landscape of high school sports has changed since Allen took over the job back in 2003, and trying to get the kids of today to understand what playing for Atlantic City meant was getting more difficult.
"The biggest challenge has been getting kids to understand the type of commitment it takes to play for the blue and white," Allen said. "Today kids have so many distractions from video games to social media all taking time away from their peruse of excellence. I can say that all of my former players regardless of what level they played in college were dedicated, high school players. The current group of kids like basketball but I don't see as much love for the game."
Allen told me he always loved competing, but it was extra special when he played Ocean City's John Bruno and St. Augustine's Paul Rodio.
"Both have helped me grow as a coach," Allen told me.
Allen, who teaches in the Atlantic City district said he wasn't sure what's next, but that he would like to watch his son, Jackson, play youth sports.
Gene Allen leaves with a record 377-136 in 19 seasons, which is fifth all-time in the Cape-Atlantic League and third among active coaches (Rodio and Bruno). He went 14-5 in the CAL tournament with four CAL titles, seven South Jersey championships and three state titles.
Allen was a great ambassador for the Atlantic City high school basketball program and will be missed by the South Jersey basketball community.
Grab Dinner in AC! Check Out These 20 Fantastic Atlantic City, NJ Restaurants
More From Cat Country 107.3