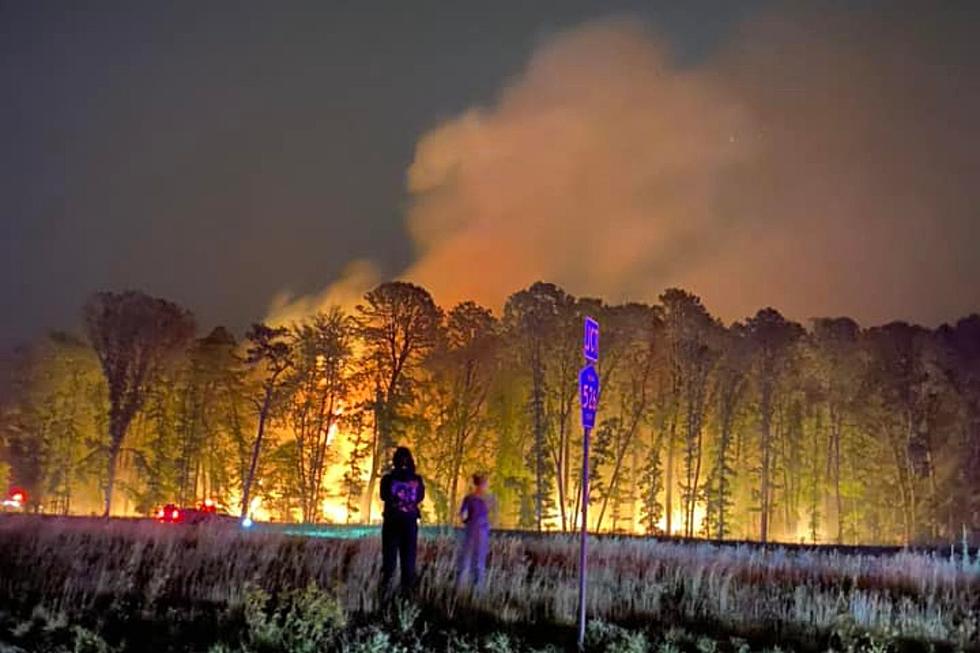 Jackson, NJ wildfire burns near homes on Day 2
Glory's wildfire in Jackson 6/6/23 (Susan Striano)
🔴 The fire started in a remote area Tuesday afternoon
🔴 Gusty winds drove the fire toward 30 homes
---
🚒 WEDNESDAY AFTERNOON UPDATE: Fire officials say the wildfire is 100% contained as of 3 p.m. with 82 acres consumed.
---
---
JACKSON — Firefighters are making progress towards containment of the Glory's Wildfire, the latest major fire to scorch a New Jersey forest.
The wildfire in Jackson, named for its proximity to Glory's Market on Cedar Swamp Road and West Commodore Boulevard, started Tuesday afternoon, according to the state Forest Fire Service. It burned at 70 acres and was 70% contained as of 8:30 a.m.Wednesday night, according to the state Forest Fire Service.
Fifteen homes were still threatened by the fire Wednesday morning.
All roads have reopened along with Exit 21 (Route 527) from Route 195.
No evacuations were ordered
Greg McLaughlin, chief of the state Fire Service said the fire started around 2:25 p.m. Tuesday afternoon in a very inaccessible area of forest near 30 homes that were threatened by the fire thanks to a gusty northeast wind.
"Crews quickly began to put in control lines with bulldozers behind those homes and began to work with backfire operations and suppression operations," McLaughlin said at a media briefing Tuesday evening.
The fire was expected to grow to approximately 100 acres before it was fully contained, according to Section Fire Warden Deale Carey.
"We've been dealing with this, it's been going on for a while. We've been busy. It's just another fire we've dealt with and we were ready," Carey said.
Extra personnel and equipment were standing by because of Tuesday's Red Flag Warning.
There have been nine major wildfires that have burned at least 100 acres so far this year across New Jersey including many in Ocean and Burlington counties. The biggest and most recent burned 5,475 acres in the Bass River state forest last week.
An organized effort to put out the fire
Jackson Mayor Mike Reina had nothing but praise for the efforts of the Forest Fire Service and firefighters that came to fight the fire.
"The coordination, professionalism, the hard work that I witnessed yesterday. They just beat the heck out of that thing. With bulldozers they cut firebreaks, they did a little backburning to reduce the amount of fuel that stopped the fire from progressing. The coordination and how they moved resources and equipment in and around what we call 'The Triangle.' It was amazing," Reina told New Jersey 101.5.
Reina said the fire crews kept at the fire all night to contain it.
Jackson police and the Ocean County Sheriff's Office successfully kept the Jackson 21 Welcome Center open as a polling location during Tuesday's primary election, according to Reina.
"That was extremely successful the way they did that considering all the amount of traffic coming off of 195 which was pouring out into there right at rush hour," Reina said. "It was a daunting task but our department, the Sheriff's Department, came out en masse."
Fire risk continues
The fire started while a Red Flag Warning was in effect, meaning low humidity and gusty winds created ideal conditions for the spread of a fire. An elevated risk of fire was in effect for Wednesday because of lighter winds, according to New Jersey 101.5 Chief Meteorologist Dan Zarrow.
"Therefore, any wildfire will spread slower, allowing firefighters to more easily get it under control. That is why we don't have a 'Red Flag Warning' posted for Wednesday. However, we continue to suffer from dry brush and very low humidity, which still presents a precarious situation for New Jersey's forests."
There was also heavy smoke in the area from wildfires burning in Canada where 154 wildfires are burning in the province of Quebec. The smoke cleared slightly Wednesday morning but Zarrow said another plume of smoke will bring thick smoke back to New Jersey skies in the afternoon.
Report a correction 👈 | 👉 Contact our newsroom
NJ's crazy haze, choking smoke, and sinister sky
How to pronounce these 20 town names in NJ
How many of these New Jersey municipalities and neighborhoods have you been pronouncing wrong?
LOOK: 20 of the biggest insects in the world
Stacker
compiled a list of 20 of the biggest insects in the world using a variety of news, scientific, and other sources.
More From Cat Country 107.3