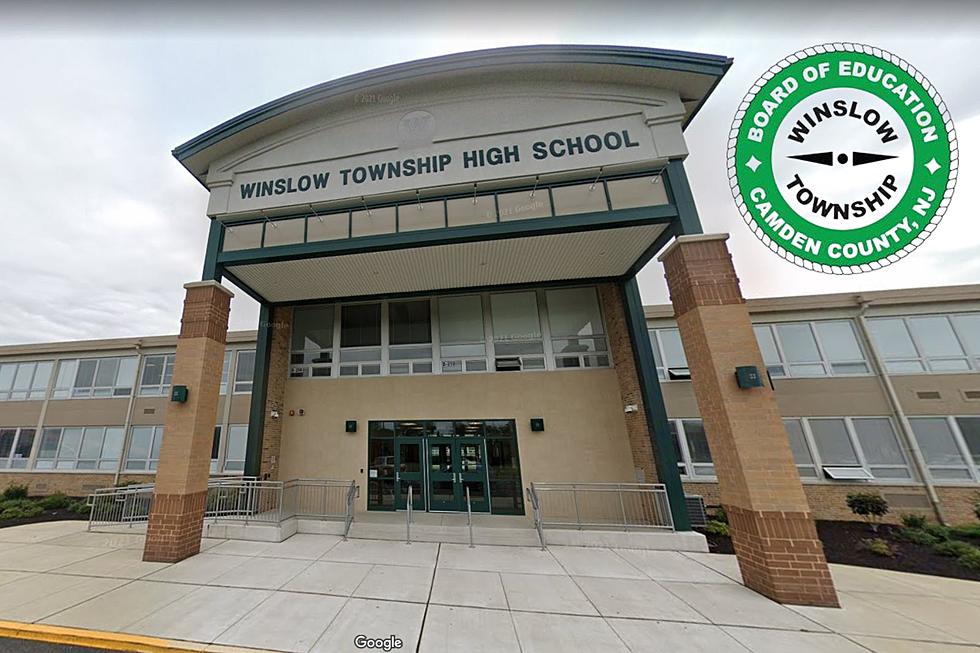 NJ teacher quits after profane tirade in class
Google Maps/Townsquare Media illustration
📚 South Jersey teacher resigns following profanity-laced tirade in class
📚 Video of the incident was posted on Facebook
📚 School officials seeking to calm angry parents
---
Winslow Township School officials are trying to calm angry parents in the Camden County district after a High School teacher went on a profanity-laced tirade against her students.
The teacher ultimately resigned after a father posted video of her cussing out his son.
Rev. David Wright wrote on Facebook the incident "traumatized my son," 16-year-old Jai Wright.
"My son hasn't been able to sleep in days," Wright wrote, "This is utterly ridiculous. Parents, please protect your children."
It is not clear what triggered the tirade from the teacher, who Wright identified as Melanie Lewellen, but Jai did have his cellphone on his desk in violation of school rules.
On the video, a female voice can be heard yelling, "Its a f— zoo in this class, every day. You do not go around behaving like this in front of your parents. Don't do it in front of me either, period. Am I understood?" The teacher's face is not visible in the recording.
Superintendent H. Major Poteat issued a statement to parents saying, "The behavior demonstrated in that video was simply unacceptable. Such
behavior cannot and will not be tolerated by the Winslow Township School District."
Let me be clear, we hear your concerns, and we share your concerns. Such behavior simply will not be tolerated, under any circumstances, by the district. - Superintendent H. Major Poteat, Winslow Township
Poteat also confirmed in his letter the teacher is "no longer employed by the district." Her resignation was accepted by the Board of Education on Feb.8, six days after the incident in the classroom.
District officials never officially named the teacher involved, Poteat explaining, "The law does not allow us to comment further on this incident."
The Philadelphia Inquirer was the first to report on the incident, and say efforts to contact Lewellen have been unsuccessful.
Eric Scott is the senior political director and anchor for New Jersey 101.5. You can reach him at eric.scott@townsquaremedia.com
Click here to contact an editor about feedback or a correction for this story.
New Jersey high school graduation rates
The lists below show 4-year graduation rates for New Jersey public schools for the 2020-21 school year. The statewide graduation rate fell slightly, from 91% in 2019-20 to 90.6%.
The lists, which are sorted by county and include a separate list for charter schools, also include a second graduation rate, which excludes students whose special education IEPs allow them to qualify for diplomas despite not meeting typical coursework and attendance requirements.
Columns with an asterisk or 'N' indicate there was no data or it was suppressed to protect student privacy.
Average SAT scores for all NJ high schools, 2020-21
Average SAT scores for the 2020-2021 school year are listed by county, from highest to lowest. Data includes the combined score, as well as the average scores on the math and reading/writing sections.
Participation rates show the share of 12th graders in the Class of 2021 who took the SAT in 2020-21 or in prior years.
High schools aren't listed if there is no data or the number of students participating was low enough that average scores were not publicly reported to protect student privacy.
LOOK: What are the odds that these 50 totally random events will happen to you?
Stacker
took the guesswork out of 50 random events to determine just how likely they are to actually happen. They sourced their information from government statistics, scientific articles, and other primary documents. Keep reading to find out why expectant parents shouldn't count on due dates -- and why you should be more worried about dying on your birthday than living to 100 years old.
More From Cat Country 107.3