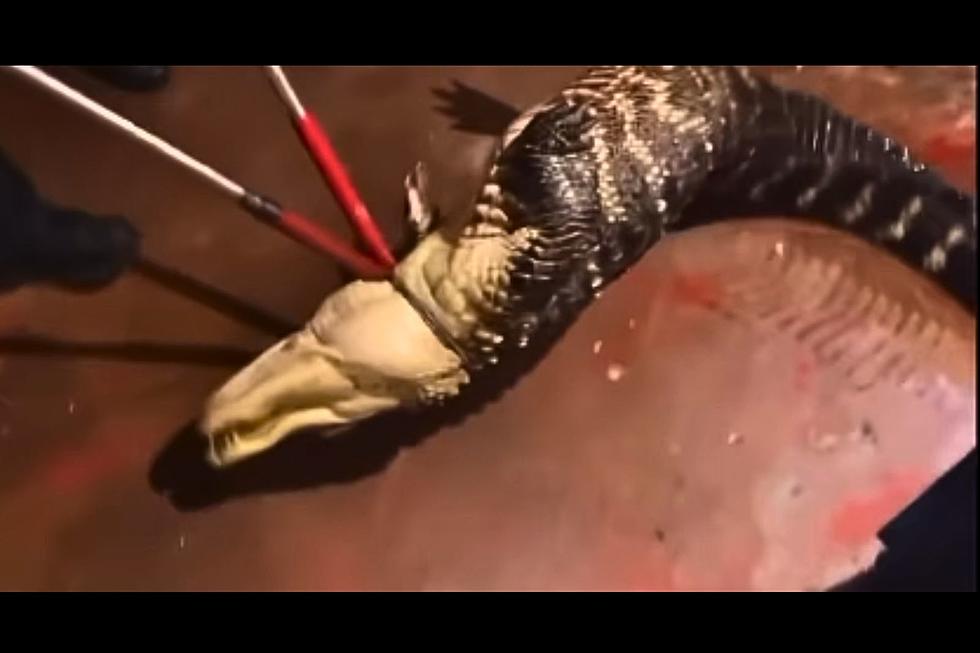 Only In Philly: Rescuers Remove 8-Foot Alligator From Private Residence
@WTTWPodcast via Instagram
This one of those situations that just make you go "what in the hell?"
Ah, Philadelphia. Most people have a love-hate relationship with the City of Brotherly Love. On the one hand, you love the sports teams, the food, and a lot of the people from there prove to be some of the funniest characters you'll ever meet. On the other hand, there's so much crime these days, you have random teenagers congregating all over the city, jumping on cop cars at all hours of the night, and once the weather gets warm, you have people riding street bikes, dirt bikes, four-wheelers, etc. all on the main streets. It's wild, to say the least.
When you hear about the latest insane situation to make the news, you'll be saying "only in Philly." Only in Philly is RIGHT! Only in Philly would animal rescue have to forcibly remove a whole alligator from someone's home. ACCT was called to a home in North Philadelphia to remove an alligator that someone was keeping at the residence. According to CBSnews.com, this thing was 8 feet long and 127 pounds.
🐊
🐊
🐊
Who made the call to ACCT? Apparently, it was the woman of the home from which the alligator was taken. Strap in for this one, ya'll. So, the woman called ACCT because the alligator belonged to her husband. Well, they're splitting up, so he'll soon be her ex-husband. She didn't want to take care of the gator, so she called ACCT so they could take him to the shelter. Yep, it's a "he" and his name is Big Mack.
Now, ACCT is trying to figure out where Big Mack will go next. In case you wondering, no, it's not legal to own an alligator in Philadelphia.
Believe it or not, this is the 3rd gator this month that's gone off to the shelter. Nuts, right? Again.... only in Philly. 😂😂
ACCT said they will not be pressing charges against Big Mack's previous owners.
Source: CBSnews.com
12 Animals That Are Illegal to Own as Pets in New Jersey
10 Philly Words That Should Be Added to the Dictionary
13 words submitted by Kayla Thomas to be added to dictionary.com. But honestly, Philly slang should be considered its own language.
21 of the Best Places to Get a Hoagie (or Sub) in South Jersey (Besides Wawa)
From one side of South Jersey to the other, these are some of the best places to grab a hoagie... enjoy!
More From Cat Country 107.3