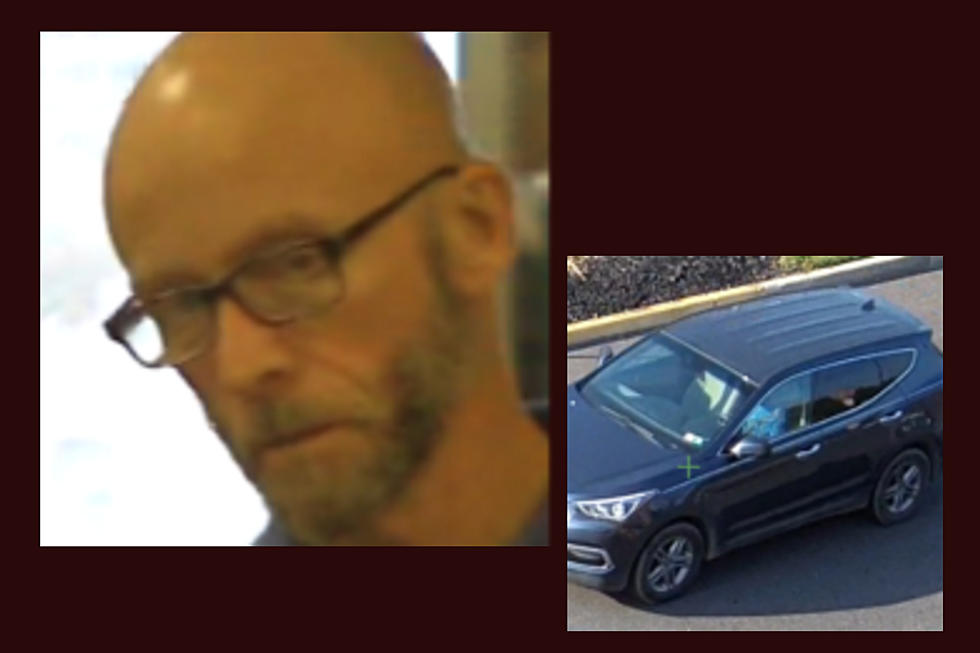 Another Bank Inside of a Camden County, NJ, Supermarket Robbed
Man wanted for allegedly robbing the PNC Bank branch inside the WInslow Township ShopRite - Photos: Camden County Prosecutor's Office
For the second time this week, cops in Camden County say a man robbed a bank that is located inside of a supermarket.
This latest robbery occurred at the PNC Bank branch inside ShopRite on Berlin-Cross Keys Road in Winslow Township at around 7:00 Friday night.
Acting Camden County Prosecutor Jill Mayer and Winslow Township Police Chief George Smith say a man, "...placed some items into a shopping basket and then approached a teller at the PNC Bank... The male then passed a note to the teller demanding money in specific denominations. In the note, the male threatened to shoot the teller, if he did not comply."
The suspect is described a white male with a thin build, bald, with a beard. He was wearing a blue t-shirt and jeans.
The man left with an undisclosed amount of cash and got into a dark-colored Hyundai SUV.
This past Tuesday, a Citizens Bank branch inside Acme in Runnemede was robbed. In that case, like this one, a note was passed to a teller that demanded money in specific denominations and also threatened the worker.
While authorities have not specifically said that the two robberies are related, similarities in the suspect(s) can be noted. The suspect wanted for the robbery in Runnemede is shown here:
That suspect is described as a white male, approximately 6 feet tall, with a slim build, a shaved head, a blonde beard, and he was wearing dark glasses and blue jeans.
Anyone with information about either robbery or the identity or whereabouts of this/either suspect is asked to contact the Camden County Prosecutor's Office's Major Crimes Unit at (856) 856-676-8175.
The 20 Most Incredibly Expensive New Jersey Homes on the Market Right Now
What Not to Do on a Traffic Stop According to a NJ Cop
My husband is a police officer. He is an amazing man who saves lives and upholds the law. He makes me proud every single day.
I know being a police officer can come with a lot of criticism, especially when there are bad eggs that give police officers a bad name. I can assure you that there are many police officers that uphold the law and do not abuse it, and my husband is one of them.
I hear stories when my husband comes home and he tells me that he encounters some crazy people. I feel like it is very simple to not get arrested by a police officer once you're pulled over or have an encounter with a cop. I went right to my hubby and he gave me some tips to share with all of you.
More From Cat Country 107.3