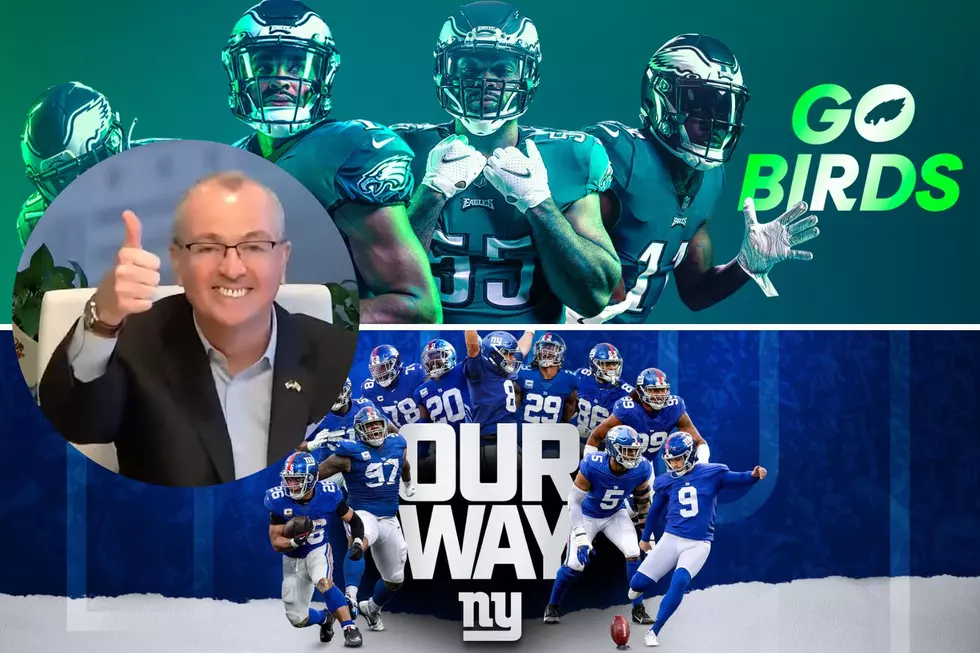 Divided NJ – Giants -vs- Eagles – Who Murphy is picking
Facebook/Philadelphia Eagles/New York Giants/Townsquare Media illustration
There is no love lost between fans of Big Blue and the Birds. As division rivals, they face each other twice a year.
As a result, there will be a lot of divided loyalties in Garden State households this weekend as the New York Giants travel down the New Jersey Turnpike to face the Philadelphia Eagles in the divisional round of the NFL playoffs.
The Eagles have been one of the best teams in football this year. The Giants have been somewhat of a surprise under first year coach Brian Daboll.
I have seen the fan divisions firsthand among members of my family. My fiancée', Sandra, is a diehard Giants fan. The rest of her family and most of her friends are rabid Eagles fans. The snarking and trash talking has been intensifying since it was announced the Giants would play Philly in the playoffs. Sandra should probably not be in the same room as her cousin Phil, a huge Eagles fan. Suffice it to say, they will not be watching the game together.
As a lifelong Buffalo Bills fan, I will confess I do have an affinity for the Giants (Super Bowl loss notwithstanding). This is for a couple of reasons. For one, Daboll and Giant's General Manager Joe Schoen came from the Bills. For another, given Sandra's fandom, I'm certainly not gonna risk an unharmonious home. Duh.
For the most part, I'm just staying out of it.
Gov. Phil Murphy is apparently doing the same.
Murphy was asked on Wednesday who he would be rooting for this weekend.
"I'm staying out of it," he said.
That may be somewhat surprising, since the Giants do play in New Jersey, and Murphy doesn't have to worry about reelection. That is not enough to swing his support. At least not publicly.
However, with Murphy possibly considering a presidential run, perhaps he just doesn't want to alienate voters who support either team.
Murphy grew up in Massachusetts, and has not been shy about admitting he is a New England Patriots fan.
For the rest of New Jersey, there is no avoiding taking sides. Football teams are just one more thing that divides North and South Jersey. (Central Jersey is a debate for later.)
South Jersey is definitely Eagles Country. The rest of the state is largely divided between the Giants and New York Jets, although the Jets seem to have the edge.
The website SeatGeek.com looked at ticket sales on a county-by-county basis.
As far as ticket sales, the Giants were the top team in only Essex, Hudson, Ocean and Warren Counties.
The Eagles were the ticket of choice in Hunterdon, Mercer, Burlington, Camden, Cumberland, Salem, Atlantic and Cape May Counties.
Jets tickets were most frequently purchased in the remaining nine counties.
The Eagles and Giants play Saturday night.  Kickoff is 8:15 p.m. at Lincoln Financial Field in Philadelphia.
Eric Scott is the senior political director and anchor for New Jersey 101.5. You can reach him at eric.scott@townsquaremedia.com
Click here to contact an editor about feedback or a correction for this story.
NJ Diners that are open 24/7
New Jersey's smallest towns by population
New Jersey's least populated municipalities, according to the 2020 Census. This list excludes Pine Valley, which would have been the third-smallest with 21 residents but voted to merge into Pine Hill at the start of 2022.
Nasty NJ town nicknames — Have you heard of them?
Dennis & Judi asked their listeners for the nasty nicknames they've heard their towns referred to. How many have you heard? Which ones would you add?
More From Cat Country 107.3