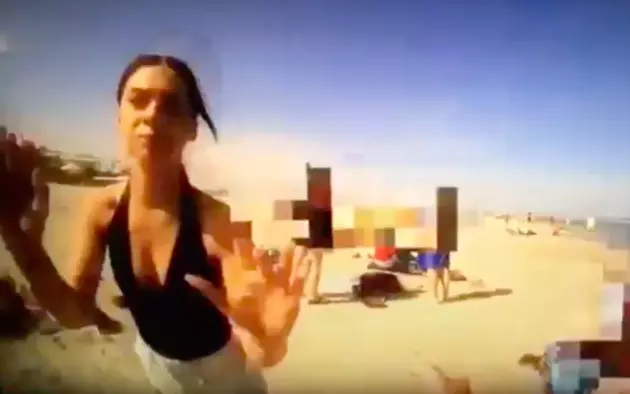 Mayor trashes woman as Wildwood takes tourism hit from arrest video
Wildwood Police Dept.
WILDWOOD — Mayor Ernie Troiano said people have been canceling their summer vacation at this shore resort after seeing video of police tackling and punching a 20-year-old woman on the beach on Memorial Day weekend.
"I have people calling and saying 'I'll never come to Wildwood again' or 'I cancelled my vacation.' I called  a lot of them back up and had conversations with them and a lot of them say 'OK, that's a different scenario," Troiano told WPG Talk Radio 104.1 host John DeMasi on Saturday morning.
Troiano admitted that he expects the city to take a bit of a hit with tourism but asked rhetorically, "Why is somebody upset we're trying to enforce the laws to protect not only the people who are underage drinking but the people who are around them?"
In police bodycam video of the incident, Emily Weinman walks away from the officers on the Saturday of Memorial Day weekend after she refused to give her last name. She's then seen turning around and putting her hands against officer's chest. Police say she struck the officer, but some believe she was just putting her hands up in a defensive pose after the officer tells her she's "about to get dropped."
The incident began because cops spotted alcohol containers next to her. Weinman, however, passed two breathalyzer tests and told the officers that the alcohol belonged to her aunt.
Another person on the beach initially posted video showing part of the incident in which the officer punches Weinman at least twice in the head.
Days later, Wildwood police released the body cam video clips from that officer's body cam. Officials, however, have not released bodycam video from other officers on the scene, which could provide better vantage points of what happened. New Jersey 101.5 has requested all the videos under the state's Open Public Records Act.
Troiano on Saturday responded to criticism that two 200-pound officers were punching a 90-pound woman.
"She was a combatant more than a woman," said the mayor, who also compared her flailing to that of a 2-year-old who doesn't want their diaper changed.
He said one of the officers is 5 foot 6 inches and weighs 140 pounds.
"The other officer who grabbed her feet to hold (Weinman) down, his nickname is 'Toothpick.'"
He said there were kids around, so pepper spray was ruled out as an option to subdue Weinman.
The mayor said that the city cracked down on underage drinking this year for several reasons, including the fact it's against the law.
"We have families and people who live here going and you get invaded by three, four, hundred kids who drop the 'F bomb' all around drinking, smoking pot. And here's the biggest reason. They're not mature enough to understand the ramifications of when you get drunk. And then they go in the ocean and they're drunk and get swept under. You know what? I make the call that you got a ticket as opposed to calling that family and saying 'your son went into the ocean and we cannot find him and he's missing and I pray to God I hope he hasn't drowned."
Story continues below the video
The portable breathalyzer is needed to defuse he said/she said arguments about whether or not someone has been drinking and only detects for the presence of alcohol.
"It immediately stops the arguing and all you get is a local ordinance ticket," he said.
Troiano said that the city will take responsibility for the officers' actions if an investigation into the incident by the state Attorney General's and the Cape May Prosecutor's Office concludes they were wrong. Two officers involved in the incident have been reassigned pending the outcome of the probe.
More From Cat Country 107.3