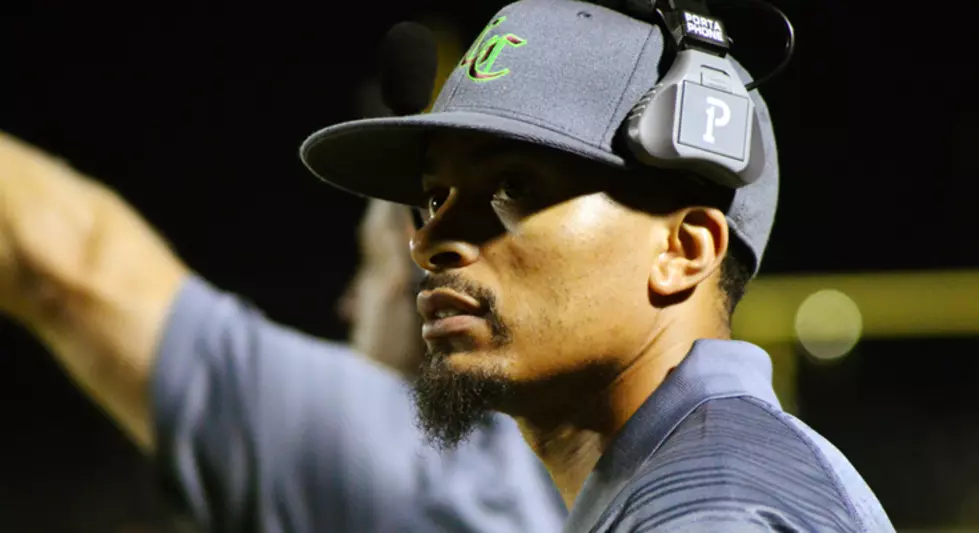 New Oakcrest Coach Ready for Challenge
Photo: Dave O'Sullivan, Glory days magazine
For 10 years, Mike Forest served as wide receivers coach under Tim Watson at Cedar Creek, and not once during that time did Forest ever harbor dreams of one day becoming a head coach. In fact, he said he never would have those ambitions — unless the job came open at his alma mater.
Earlier this year, Forest — who helped develop some outstanding receivers during his time at Cedar Creek, such as Amir Mitchell, Bo Melton, Malachi Melton and Jojo Bermudez — was hired to be the next head coach at Oakcrest High School after Eric Anderson announced his decision to step down after five seasons. The Falcons went 15-32 during Anderson's tenure.
"I didn't know this opportunity would present itself. I was comfortable where I was at Cedar Creek under coach Tim Watson, and being led by him was great. I never really wanted to be a head coach, but I told myself if the opportunity presented itself the only place I would be the head coach for would be Oakcrest. When that opportunity presented itself, I definitely put my hat in the ring, and here we are now," said Forest, who played wide receiver at Oakcrest and graduated in 1999. "It was kind of crazy. It was hard for me to let it set in because as I found out I was the head coach I had to deal with all the stuff that comes with that (right away). It wasn't like I got a call and they said, 'hey, you're the guy, talk to you tomorrow.' It was like, 'hey, you're the guy and this is what we need to do.' It's still a little surreal. I don't think it's really going to hit me until I'm around the guys and we're really getting stuff done. Right now it's just virtual stuff so the connection is not really there. Until we can connect and I can see them, maybe get into the weight room soon and start doing some kind of workouts, then it might be like, wow, this is really happening."
Forest said it hasn't been easy to get started with his vision for the program because of the pandemic. In a normal year he'd be jumping right in with watching the guys during their offseason workouts, breaking down film with players, etc. These days everything has to be done virtually.
"Right now I'm just trying to let the guys know about me as much as possible. I have them in a group chat and I'm just trying to stay connected with them, give them a feel for who I am and what I'm about," Forest said. "I get together with the coaching staff (virtually) every morning and check with them throughout the day, we'll send the guys different game plans we might have been talking about and we'll quiz them on it, things like that, just to keep their minds as close to football as possible. We'll get on and have a (Zoom) meeting here and there. I've met with the upcoming seniors, juniors, all the classes, and we talked about last season and the future. It's basically just trying to figure out a way to stay connected. My No. 1 goal right now is to start building these relationships so they know who I am.
"The biggest challenge right now is not being able to connect with the guys as much as I want to," added Forest, who is a counselor at Atlantic-Cape Community College. "I believe leading a team is something I'm capable of doing. I'm comfortable in my leadership skills. The things we have to deal with right now — (in a normal year) we'll already be in the weight room and I'd be seeing them working out. So that's the hardest part, just having to sit here and wait because of this pandemic."
One of the biggest challenges Forest faces as he begins his career is getting Oakcrest kids to stay at Oakcrest. The school is centrally located in Atlantic County and that lends itself to top players choosing other schools, such as intra-district rivals Absegami and Cedar Creek or parochial powers like St. Joseph Academy, St. Augustine Prep and Holy Spirit.
"That's the hardest part, but I'm so ready for that challenge," he said. "I'm a community guy. A lot of these guys I coached when they were younger because I'm still involved with the youth leagues. I know their parents and I think a lot of these parents will feel comfortable having their kid come back home. That's the goal — Oakcrest has basically become Mays Landing High School now. We have to do our best to keep the guys home and it starts with putting a product on the field that the community will be proud of, and just make Oakcrest the place where people are excited to come, and not just come here because they didn't get into Cedar Creek or St. Joseph or Holy Spirit. We don't want to be the second or third choice."
Forest said he believes the Mays Landing kids will want to stay home and play for Oakcrest once they see what he's all about. He believes his life experience of growing up in Mays Landing, right across the street from the high school, will go a long way in getting the players to trust him and his staff.
"My coaching philosophy is easy and it's mentorship-relationship-first coach. I believe you have to build relationships first before anything else can be done. That's the way I operate within my mentor programs and things I do in the community, and that's the way to do it. I'm a relationship-first guy and that's what we're going to do. We have to get a strong relationship going in the school, with us as a coaching staff and within the whole team, and we'll move forward from that point. Once the guys trust me and understand that I'm fully in this and want the best for them, everything will start coming together," Forest said. "I'm very excited. When coach Watson stepped down (at Cedar Creek) my thoughts changed, and when this opportunity presented itself, I thought, 'I can do this, I'm ready.' Being from Oakcrest and growing up where these kids grew up and letting them know I've been in their shoes — a lot of people say, 'hey, I know what you're going through,' but when I say it they know I mean it 100 percent. I've walked the same hallways, practiced on the same fields, played on the same game field. I grew up right across the street in Oakcrest Estates, like a lot of these guys have, so I can really relate to these guys."
Contact Dave O'Sullivan: sully@acglorydays.com; on Twitter @GDsullysays
More From Cat Country 107.3