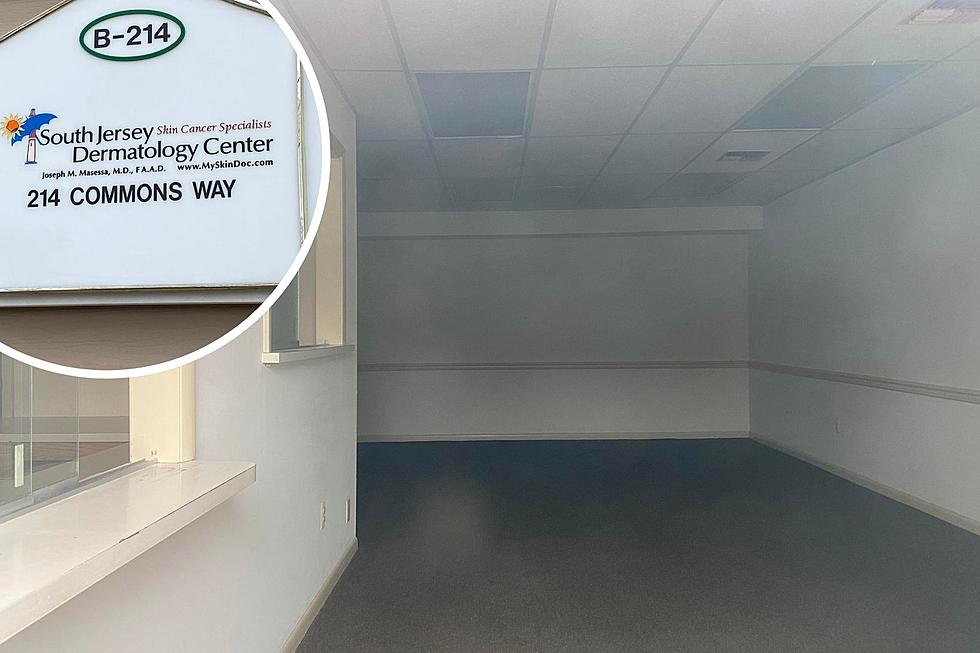 No help for NJ patients seeking records from suddenly closed dermatology centers
Empty offices of South Jersey Dermatology Center in Toms River (Listener submitted)
🔴 South Jersey and North Jersey Dermatology Centers closed without warning in February
🔴 Owner Jeff Masessa did not create a patient portal to access records as promised
🔴 The state Division of Consumer Affairs won't say how they will help patients
---
It appears there is no help for patients of the South Jersey Dermatology Center or the North Jersey Dermatology Center.
Patients of the South Jersey Center's offices in Toms River and Stafford and the North Jersey offices in Clifton, Parsippany and Rockaway were greeted by locked doors and empty offices without any explanation in late February. The company's websites, which have since been taken down, offered no explanation.
Division of Consumer Affairs spokesman Rob Rowan told New Jersey 101.5 in March that owner Jeff Masessa told the Board of Medical Examiners he was working to provide as much information as possible to all patients by way of a patient portal set up for patients to access their records. Patients would be notified via the email address on file on how to access the portal.
"He is working with patients on an individual basis if they need to pick up records in person," Rowan said. "According to board regulations, a physician has 30 days from the time the patient requests the records, or promptly in the event of an emergency, to provide patient medical records."
Numerous emails to New Jersey 101.5 from frustrated patients after our stories in March indicated no communication was received from Masessa.
A sample of the emails received by New Jersey 101.5:
No follow through, no help, no explanation
According to Rowan, a portal was never created.
"Currently, patients are unable to access their records out of South Jersey Dermatology. The Division has received additional complaints and is currently reviewing the matter," Rowan said in an email.
When asked what the Division of Consumer Affairs is doing to force Masessa to comply so patients could get their records Rowan said he could not discuss the matter further.
Masessa did not respond Wednesday to a phone call and text message.
Complaints against Maessa can be filed on the Division of Consumer Affairs website.
What South Carolina did
Masessa's company, Adult and Pediatric Dermatology Group, also has offices in Florida and South Carolina, which were also abruptly closed. Like what happened in New Jersey Masessa never made arrangements for South Carolina patients to get their records, according to a report by ABC 15 News.
The state Board of Medical Examiners stepped in and ruled that Masessa was no longer a "responsible party" and appointed another doctor,  Dr. Brandon Coakley, the custodian of patient records.
Coakley told ABC 15 he plans to notify every patient by either email or postal mail about getting their records.
What is your experience getting records from South Jersey and North Jersey Dermatology Center? Contact reporter Dan Alexander at dan.alexander@townsquaremedia.com
Click here to contact an editor about feedback or a correction for this story.
NJ county fairs are back! Check out the 2023 summer schedule
A current list of county fairs happening across the Garden State for 2023. From rides, food, animals, and hot air balloons, each county fair has something unique to offer.
(Fairs are listed in geographical order from South NJ to North NJ)
LOOK: Most dangerous states to drive in
The 30 best rated schools in New Jersey
Here are the top 30 schools statewide, based on their 2021-2022 New Jersey School Performance Reports — involving scores for language arts, math and attendance. (For an explanation of how the state calculates the "accountability indicator scores" and overall rating for each school,
see page 90 of this reference guide.
)
More From Cat Country 107.3